Hello beautiful friends! If you're new to the Rachael Sage email list, welcome and thanks for signing up! For the rest of y'all, welcome back...and Happy Spring!
We hope you're as excited as we are that Rachael has a brand new album, "Choreographic"! You can read all about it below, along with exciting updates on her pending US CD Release Tour, special album pre-order offers via Pledge Music, new T-shirts and more...
xo & tulips,
- Rachael & Team MPress
1. NEW ALBUM "CHOREOGRAPHIC" AVAILABLE FOR PRE-ORDER NOW!
Rachael's brand new album "Choreographic" is mixed, mastered & pressed...and we can't wait for you to hear it! A self-described "love letter to dance", the album was inspired by her dance-centric experiences as a student at The School Of American Ballet, and more recently, as a contributing songwriter for Lifetime TV's #1 reality show, "Dance Moms". The album, co-produced by Sage and Grammy® Winner Andy Zulla (Kelly Clarkson, Rod Stewart), is lush with orchestral instrumentation including strings, woodwinds and Rachael's touring band, The Sequins. Longtime collaborator & Grammy® Nominee John Shyloski also helped record the project. Read more in the official Press Release.
While "Choreographic" won't be officially released until May 20th, you can pre-order the album now via Pledge Music! Rachael is thrilled to also be offering special exclusive pre-order items including a decorated guitar, her own coloring book, and one-of-a-kind artwork! Check out the full list of "Choreographic"-themed packages here!
2. NEW DANCE-THEMED T-SHIRT DESIGNS!
Rachael has whipped up brand new, dance-themed T-Shirt Designs, and you're going to love them! They feature a lyric from "Choreographic", and one of the shirts also features a drawing by Rachael of pointe shoes in her current favorite colors, magenta and purple! Check out all the designs – in both unisex and women's styles – on sale now!
3. CD RELEASE TOUR: NASHVILLE, CHICAGO, NYC, L.A., DC, ATLANTA & MORE..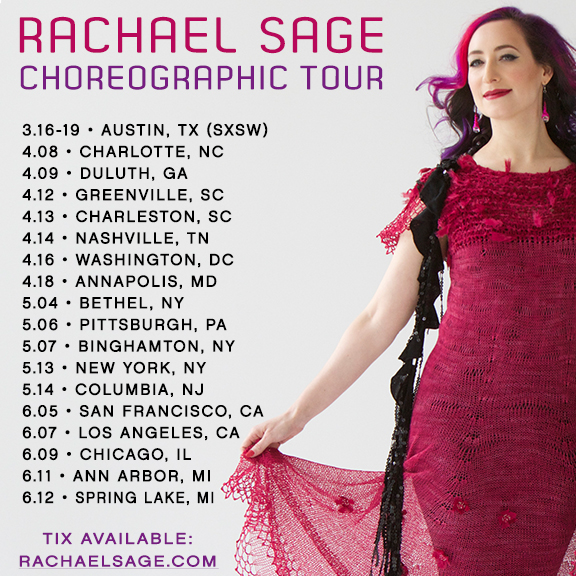 Rachael is headed out on tour in support of her forthcoming album "Choreographic", available exclusively at live shows until its official release later this spring! She'll be playing the new songs in some of her favorite cities. Tickets for all shows are on sale now — see the side of this newsletter for the complete schedule!
4. SXSW RECAP: PHOTOS & VIDEO OF RACHAEL'S SHOWCASES
Rachael had a fantastic week down in Austin at this year's SXSW! She performed at several showcases – including at her label MPress' 10th Annual MPressFest – and we've compiled some of the highlights into a SXSW Recap Reel! We also have some fun photos from the shows that you can see in a special SXSW photo gallery. Enjoy! :)
5. MISCELLANEOUS: RECENT PRESS, RADIO & MORE!
We're always so grateful to supporters at Press who help spread the word about Rachael's music... Here are a few of her latest Media placements, including a 17th song on Lifetime TV's "Dance Moms". Woohoo! :)
6. SEEKING SAGE STREET TEAMERS!
We're seeking Street Teamers to help spread the word about Rachael's music! Have you ever wanted to work directly with a record label? Now's your chance! We're looking for enthusiastic supporters of Rachael's music who'd be willing to share e-cards for Rachael's shows on the socials (Instagram, Facebook, Twitter) as well as fun monthly "missions". For your fabulous efforts, MPress Records will happily provide you with free tickets to her shows, special acoustic mixes, and the knowledge that you're a supreme supermensch helping support great indie music!! Need more info? Click here!
PRE-ORDER NOW

Choreographic (Brand New Album)
---
UPCOMING SHOWS
(For more details and to confirm start times, please visit Rachael's website)
4/8 • Charlotte, NC
The Evening Muse
8:00pm
supporting Mary Fahl
4/9 • Duluth, GA
Red Clay Theatre
8:00pm
supporting Mary Fahl
4/12 • Greenville, SC
Theater at Coffee Underground
7:00pm
with Danielle Howle
4/13 • Charleston, SC
Awendaw Green Barn Jam
8:15pm
4/14 • Nashville, TN
The Bluebird Cafe
6:00pm
in-the-round w/Jeff Cohen, boots ottestad, & Alicia Witt
4/16 • Washington, DC
The Corner Store
8:00pm
4/17 • Philadelphia, PA
World Cafe Live
8:00pm
with Jennifer Harper
4/18 • Annapolis, MD
49 West
8:00pm
4/30 • Bethel, NYD
"The Last Waltz Live" @ Bethel Woods Center for the Arts
8:00pm
5/4 • Columbus, OH
Woodlands Tavern
8:00pm
5/5 • Pittsburgh, PA
First Unitarian Church
8:00pm
5/7 • Binghamton, NY
Cyber Cafe West
9:00pm
5/13 • New York, NY
Rockwood Music Hall Stage 2
7:00pm
NYC ALBUM RELEASE SHOW!
5/14 • Columbia, NJ
Muses In The Vineyard Festival
4:30pm
6/2 • Hay-on-Wye, UK
How The Light Gets In Festival
7:30pm
6/5 • San Francisco, CA
Hotel Utah
8:00pm
6/7 • Los Angeles, CA
The Hotel Cafe - Second Stage
8:00pm
6/9 • Chicago, IL
Uncommon Ground Edgewater
8:00pm
6/11 • Ann Arbor, MI
The Ark
7:30pm
supporting Mary Fahl
6/12 • Spring Lake, MI
Seven Steps Up
7:00pm
supporting Mary Fahl