Hello, and happy end-of-summer! 
We're admittedly sorry to see the warmest season ending, but the good news is it brings us that much closer to Rachael's forthcoming release, "Blue Roses"! Read below for the latest news on pre-order details, and a very special update on Rachael's prime-time TV debut!
xo & falling leaves,
Rachael & Team MPress
1. RACHAEL APPEARS ON LIFETIME'S HIT TV SERIES "DANCE MOMS"!
On Tuesday, August 26th, Rachael made her prime-time TV debut on Lifetime TV's #1 Reality Series, "Dance Moms"! Yes, that's right...she was actually on the show, visiting with the Abby Lee Dance Co. and cheering on rising star Maddie Zeigler as she performed to Rachael's new song "Happiness". If you missed the episode, you can watch it via the Lifetime App on your iPad or phone, or it will be airing again next Tuesday, at 8pm!
2. BEHIND THE SCENES VIDEO OF "DANCE MOMS" TAPING, & FACEBOOK GALLERY
• Check out this fun vlog that chronicles some of the excitement throughout Rachael's visit to the set of the Pittsburgh-based "Dance Moms"!
• You can also see exclusive photos in a new "Dance Moms" gallery on Rachael's Facebook page...
3. "BLUE ROSES" NOW AVAILABLE FOR PRE-ORDER!
"Blue Roses", Rachael's 11th release on MPress Records, is now available for pre-order through Pledge Music! Check out the exclusive bundles we're offering directly to her supporters online, including one-of-a-kind artwork, a hand-panted Privia keyboard, a signed Martin acoustic guitar, and much more!
5% of the proceeds will benefit one of Rachael's favorite organizations Musicians On Call and supporters will have access to exclusive behind-the-scenes video and content!
4. CURRENTLY BOOKING FALL/WINTER CD RELEASE TOUR
Rachael and her band The Sequins are aiming to be on tour through the end of the year and beyond, and is looking to bring her unique show to your favorite venue in your city, town or even your living-room! We are open to any/all opportunities, so if you work with an organization, school, venue or community institution that loves colorful, dynamic chamber-folk-pop, please get in touch with us at: booking@mpressrecords.com. We'll do our very best to make it happen!
...See the side-bar of this email for Rachael's scheduled shows so far, and keep on eye on her website, as more shows are constantly being added!
5. HELP SPREAD THE WORD ABOUT RACHAEL ON "DANCE MOMS"...
MPress Records, Rachael's label, would love for her fan-base to help spread the word about Rachael's recent appearance on "Dance Moms" via Twitter!
To help, click here to access an exclusive widget that prompts you to tweet. After you do, you will receive a free download of Rachael's song "Wax," which will be featured on Dance Moms on Sept. 9th!
Tweet this: "Check out this video of @RachaelSage on @DanceMoms! http://bit.ly/rs_dm #Happiness"
AVAILABLE NOW FOR PRE-ORDER
AVAILABLE NOW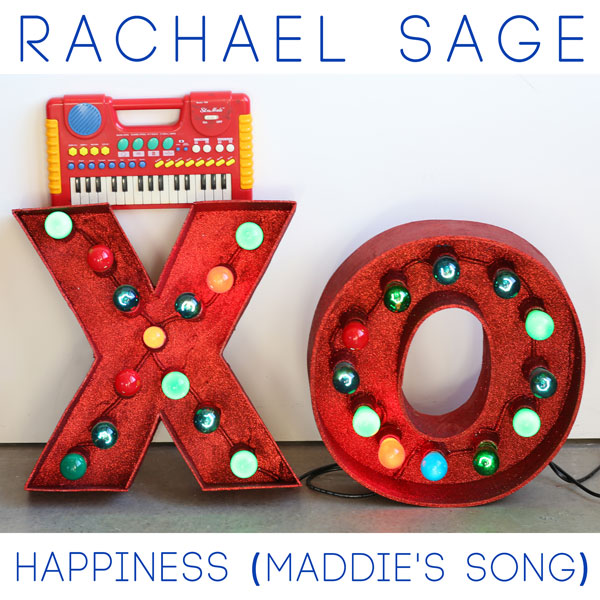 ---
UPCOMING SHOWS
(For more details and to confirm start times, please visit Rachael's website)
9/19 • Dewey Beach, DE
McShea's
11:00 pm
GoGirls @ Dewey Beach Music Conference
9/20 • Mt. Airy, MD
House Concert
8:00 pm

9/21 • Rockville, MD
Benefit Concert @ Ted's 355 Diner
5:00 pm
Event to benefit Cheryl Kagan For State Senate EMAIL for more info.
9/25 • Decatur, GA
Eddie's Attic
7:30 pm
Lucy Wainwright Roche!
9/26 • Savannah, GA
The Sentient Bean
8:00 pm
9/28 • Birmingham, AL
Moonlight On The Mountain
8:00 pm

10/5 • Chicago, IL
Uncommon Ground On Devon
8:00 pm
10/10 • Los Angeles, CA
Genghis Cohen
7:00 pm
10/30 • Hamden, CT
The Outer Space
8:00 pm
11/1 • New York, NY
Le Poisson Rouge
8:00 pm
Just confirmed!