Happy 2016, friends! We hope you all had a lovely holiday season & managed to get some chill-time in. :)
Rachael has been typically hard at work on new creative projects this winter, including wrapping up production on her new album – woohoo! – and planning her U.S. album release tour for this Spring/Summer. Grand plans are also in the works for upcoming appearances at Folk Alliance International Conference, SXSW, the NAMM Show (which Rachael is attending this weekend), and a new music video!
See below for all your latest sparkly Sage-updates, and looking forward to seeing/serenading you all in the New Year...
xo & light,
- Rachael & Team MPress
1. UPDATE: RACHAEL'S 12TH ALBUM "CHOREOGRAPHIC" SLATED FOR MAY 6 RELEASE!
Rachael is currently in the process of mixing her latest collection, "Choreographic", which will be released via ILS/Caroline Distribution this Spring. The album marks a creative reunion for Rachael and her very first co-producer, Grammy® winner Andy Zulla (Rod Stewart, Idina Menzel), and was engineered by Zulla and longtime collaborator and 2-time Grammy® nominee John Shyloski (Johnny Winter, Diana Ross). The collection was inspired by Sage's roots in dance, beginning with her years at The School Of American Ballet and culminating in recent collaborations in the lyrical dance community. Keep up with news about the new album over at Rachael's website, and of course, by following her on her socials!
2. U.S. SPRING/SUMMER ALBUM RELEASE TOUR BOOKING NOW!
Rachael and her team are hard at work booking shows along her pending U.S. "Choreographic" Album Release Tour. Shows have already been scheduled in a smattering of cities including NYC, Chicago, Atlanta, Charlotte, Nashville and Ann Arbor...with many more in the works. We welcome any/all recommendations for venues and festivals where you'd like to see Rachael perform this year in a city near you, so please feel free to hit "reply" or contact booking@mpressrecords.com & we'll do our best to make it happen!
If you would like to consider hosting Rachael at a house concert, visit fanswell.com/rachaelsage or email booking@mpressrecords.com.
3. CONFERENCE SEASON: RACHAEL TO ATTEND NAMM, FOLK ALLIANCE & SXSW!
This weekend, Rachael is attending The NAMM Show, the largest gathering of music gear manufacturers in the world. She'll be attending as an official Casio artist, and performing at their booth (#5900) this Saturday at 11:30 am! Otherwise, look for her hangin' around their showcase booth, or wandering the acoustic piano, Korg, Moog and Guild guitar sections saying hello to some of her favorite instruments!
Next month, Rachael will attend the Folk Alliance International Conference in Kansas City, accompanied by her uber-talented violinist Kelly Halloran. Her showcase schedule is already packed, and she's looking forward to reuniting with peers and discovering new artists at one of her favorite annual events. Check out her schedule here, and if you're attending, you can connect with Rachael on-site by emailing booking@mpressrecords.com, or swing by the MPress booth (#603) in the Exhibit Hall or the MPress Room (#542) during the evening private showcases.
Last but not least in the "conference triptych", Rachael will be performing once again at SXSW in Austin, TX as part of MPress Records' Official SXSW Day Party! Sharing the bill at our 10th Anniversary bash will be Rachael's label-mates A Fragile Tomorrow, Seth Glier, and K's Choice, plus surprise guests. Come join us, if you're in Austin for the festival! :)
4. RACHAEL FEATURED IN CURRENT ISSUE OF PERFORMER MAGAZINE, & MORE!
This month, Performer Magazine ran a special Social Justice issue, and invited Rachael to write a piece about her experiences as a female music producer in a male-dominated field. It's a thoughtful, honest look at one of Rachael's lifelong passions. Check it out on their site, and let us know what you think!
Rachael was also featured in the Binghamton (NY) Press & Sun-Bulletin's end-of-year concert roundup, along with the UK blog Angry Baby, which is helmed by a very prodigious 14-year-old writer and editor! Check it out here.
5. DANCE MOMS FEATURED RACHAEL'S "CHANDELIER" IN SEASON 6 PREMIERE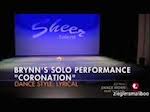 On January 5, the controversial reality smash "Dance Moms" featured another track from Rachael's pianistic catalog, "Chandelier". The lovely and impressive young dancer Brynn Rumfallo performed to the piece, which won first place for the ALDC in their competition - woohoo! You can watch the dance here.
6. RACHAEL'S FRIEND AND COLLABORATOR PASSES AWAY, BUT LIVES ON THROUGH ART AND MUSIC
As some of you may have already seen from following Rachael on Facebook, Rachael's friend and creative collaborator Riki Chen passed away this month. Rachael and Riki met last year after Rachael was drawn to his beautiful watercolor paintings, and eventually one of them inspired a song, "Heaven Is A Grocery Clerk". While Riki will be missed greatly, his spirit lives on through his gorgeous artwork (which you can see here), through the many peers he impacted through his unique perspective as a beat poet, musician and painter, and through Rachael's words. You can read her poem for him, and watch her perform the song he inspired, which will be on Rachael's next record. Riki lives on — #RIP, friend.
AVAILABLE NOW

Blue Roses (Deluxe Digital Edition)
---
UPCOMING SHOWS
(For more details and to confirm start times, please visit Rachael's website)
2/17-20 • Kansas City, MO
Folk Alliance International
3/4 • Binghamton, NY
Phelps Mansion
6:30 pm
3/18 • Austin, TX
MPressFest SXSW 2016
12:00 pm
4/8 • Charlotte, NC
The Evening Muse
8:00pm
supporting Mary Fahl
4/9 • Duluth, GA
Red Clay Theatre
8:00pm
supporting Mary Fahl
4/13 • Charleston, SC
Awendaw Green Barn Jam
6:00pm
4/14 • Nashville, TN
The Bluebird Cafe
6:00pm
4/16 • Washington, DC
The Corner Store
8:00pm
5/4 • Columbus, OH
Woodlands Tavern
8:00pm
5/5 • Pittsburgh, PA
First Unitarian Church
8:00pm
5/7 • Binghamton, NY
Cyber Cafe West
9:00pm
5/13 • New York, NY
Rockwood Music Hall Stage 2
7:00pm
NYC ALBUM RELEASE SHOW!
5/14 • Columbia, NJ
Muses In The Vineyard Festival
4:30pm
6/10 • Chicago, IL
Uncommon Ground Edgewater
8:00pm
6/11 • Ann Arbor, MI
The Ark
7:30pm
supporting Mary Fahl
6/12 • Spring Lake, MI
Seven Steps Up
7:00pm
supporting Mary Fahl