Greetings, and Happy Summer everyone!
If you're new to Rachael's email list — welcome! :) For the rest of y'all: it's been a while since we've checked in, but Rachael's been hard at work on brand new recordings...along with helping release new music by some other artists on her label MPress Records, so forgive the lapse!
In this newsletter we're excited to share a brand new vlog from Rachael's tour with Howard Jones, a link to her artist feature this month by Casio Keyboards, an update on the progress of her next album, and of course, her upcoming summer shows.
Enjoy, & stay cool!
xo & light,
Rachael & Team MPress
1. NEW VLOG FROM RACHAEL'S TOUR SUPPORTING HOWARD JONES!
As some of you may know, this Spring Rachael had the incredible opportunity to tour the UK with her childhood idol, the legendary synth-pop genius Howard Jones! It was a unique tour for Howard as he performed entirely solo, just him at the keyboard sharing song insights, hilarious career anecdotes and beautiful stripped-down piano arrangements.
Along the way, Rachael got to know Howard and his lovely crew, do a bit of radio promo, and have some unexpected adventures across the UK. Check out the tour recap HERE, and enjoy!
...also in case you missed the photo album in our last newsletter, you can still check it out in Rachael's Facebook Gallery. :)
2. RACHAEL IS THIS MONTH'S CASIO FEATURED ARTIST
In a delightful "full circle" of sorts, keyboard pioneer and all around innovative tech company Casio is highlighting Rachael this month as their Featured Artist! Rachael's very first keyboard – and her second, and her third as it happens – was a Casio, which she used to bring to school to accompany the choir, and by which she certainly became known as the local "synth-girl". These days, she travels with an 88-key Privia, a digital piano that she's customized with her signature artwork and glitter. Read all about her relationship to Casio in their official feature article, HERE!
3. CATCHING UP W/ RACHAEL IN THE RECORDING STUDIO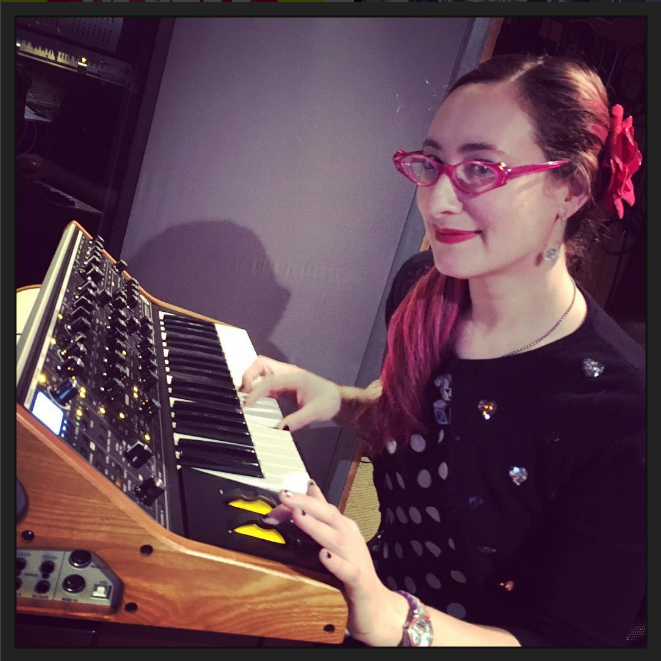 Rachael is hard at work (i.e. play) on her next album, and has been recording it between her last few tours. While we don't wanna give away too many details just yet – what fun would that be? – we can tell you a few! Firstly, she's playing a lot more guitar on it, and has already had a few sessions with illustrious members of her band The Sequins (Ward Williams, Andy Mac, Kelly Halloran, Dave Eggar) as well as "honorary sequin" & longtime collaborator James Mastro — who toured as Rachael's electric guitarist on the Beth Hart tour earlier this year.
Rachael has also been spotted in the studio playing Moog synth, singing in Yiddish (yep!), and gathering some pretty amazing ladies for a special 20th anniversary reboot of the fan favorite, "Sistersong". The album is slated for a Spring 2018 release, and we'll send you more updates as things progress. Woohoo!!
4. SUMMER SHOWS: HOMETOWN NYC SHOWS, UK FESTIVALS & MORE!
It's Festival Season, and Rachael's favorite season in general! This summer Rachael will be making a couple local appearances including performing on July 9th at City Winery, one of NYC's best listening rooms, at a benefit for the wonderful charity "Musicians On Call".
Later this summer Rachael will head back across the pond to play several Pride Festivals in the UK — along with a special intimate performance at renowned acoustic venue The Green Note in London on August 3rd. For more details and to purchase tickets, visit www.rachaelsage.com/shows!
5. BRING RACHAEL TO YOUR TOWN: 2018 BOOKINGS NOW UNDERWAY
In conjunction with her next album release, Rachael will be doing an extensive US Tour! We are just beginning to book shows for Spring/Summer 2018, and are hoping to bring her next tour everywhere from the East Coast to the Midwest, West Coast and Pacific Northwest.
If you are a talent buyer, concert presenter, or simply an avid supporter who would like to present Rachael in concert at your local venue, community center, or even an intimate house concert, NOW is the time to reach out to her team at MPress Booking to present your ideas! So often we will end a tour and hear feedback in hindsight that you wished Rachael had come to your city or town...so now is your opportunity to help make it happen! We welcome your ideas & energy putting together what we hope will be Rachael's most extensive US tour yet, so please contact us at: booking@mpressrecords.com.
AVAILABLE NOW!

"The Tide" EP
to benefit AMERICAN REFUGEE COMMITTEE
---
UPCOMING SHOWS
(For more details and to confirm start times, please visit Rachael's website)
7/9 • New York, NY
City Winery
7:00 pm
benefit for Musicians On Call
7/10 • New York, NY
Private Event
7/29 • Weston-super-Mare, UK
Weston Pride
Time TBD
7/30 • Stockport, UK
Stockport Pride
Time TBD
8/3 • London, UK
The Green Note Basement Bar
8:00 pm
8/4 • Bournemouth, UK
House Concert
8/26 • Llandudno, UK
TVStock
Time TBD
9/2 • Reading, UK
Reading Pride
Time TBD
10/13 • Wawern, DE
Synagoge
8:30 pm