Hello, & happy Spring everyone!
It's been a few weeks since Rachael's last newsletter, and lots to catch y'all up on. For starters, Rachael Sage & The Sequins will be heading to SXSW this week in Austin, TX and playing up a storm - woohoo! In addition, we have a bunch of updates for you on everything from Rachael's new UK/Irish single, a video debut with her longtime mentor and recent duet-partner Judy Collins, photo galleries from her latest tour adventures, and of course, a slew of new tour dates.
Details below, and enjoy!
xo & tulips,
- Rachael & Team MPress
1. New Website: Check Out The New RachaelSage.com!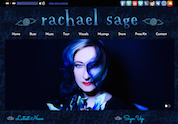 Have you been to Rachael's website lately? If not, go check it out - it's new, blue and very pretty thanks to our friends and collaborators over at Section 101. Featuring album-themed photos by the amazing Shervin Lainez, the current "soft launch" of the site includes all of the longtime content of the old site, reorganized and refreshed. We've added a few new poems and a bunch of Rachael's newest paintings from her recent NYC gallery show, so check it all out and let us know what you think! Even more changes to come, but in the meantime we hope you like the new web-digs as much as we do :)
2. SXSW 2015: Rachael Sage & The Sequins To Showcase In Austin
As you read this, Rachael & her band-mates - Andy Mac, Kelly Halloran and Ward Williams - are enthusiastically shlepping to Austin, TX to spread their own brand of glittery-alt-pop at their favorite annual music festival. In addition to appearing at Rachael and MPress Records' annual shindig, MPressFest SXSW, they'll also be performing at MusicGorilla Fest, Red Gorilla Fest, the Folk Alliance Showcase and a private SXSW launch party honoring Buddy Holly's legacy. For complete details follow the official Rachael Sage SXSW Link - and let us know if you'd like to connect in Austin!
3. Rachael & Judy Collins' Duet of Neil Young's "Helpless" Hits UK/Irish & US Airwaves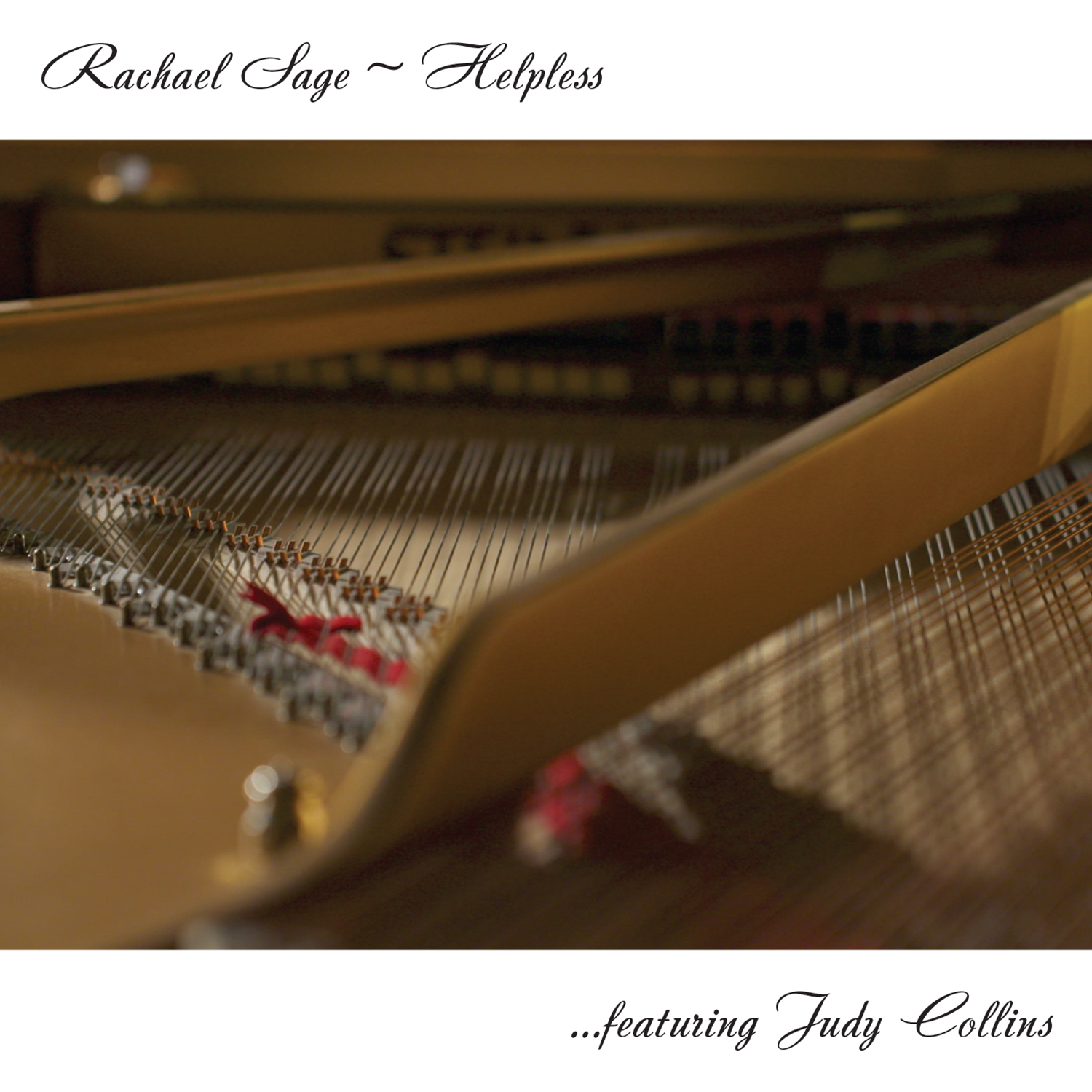 "Helpless", from Rachael's new album "Blue Roses", was officially released to UK & Irish radio last week, and has already been getting quite a lot of support. Interviews with Judy and/or Rachael discussing their unique collaboration on the Neil Young classic have already run on BBC Radio Suffolk, & BBC Scotland's Culture Show with Jane Forsyth, and Ireland's RTE Radio 1. Also, on March 22nd, UK's beloved Clare Balding will present an in-studio live performance and interview with both Judy and Rachael, on her BBC Radio 2 Good Morning Sunday show.
In the US, the duet has also been climbing the Folk Chart, debuting at #29 - a first for Rachael! - and garnering spins on the Midnight Special, WFUV's Sunday Breakfast, and more.
4. Video Debut: Huffington Post Premieres "Helpless" Video Directed By Nick Clark!
Last month, The Huffington Post premiered the official video for "Helpless", directed and edited by award-winning filmmaker Nick Clark. Shot in the legendary Steinway Hall in Manhattan just days before it closed its doors permanently, the clip highlights Rachael and Judy's joyful energy and upbeat take on the classic Neil Young ballad, and was filmed in less than an hour, just after customers left the Hall and before staff politely closed up shop for the evening. Kudos and gratitude to both Judy and Nick Clark for lending their respective talents and for being so beautifully present throughout what was certainly the most spontaneous, and one of the most joyful video experiences of Rachael's career. Watch the video HERE.
5. Behind The Scenes Images from Folk Alliance & UK/Irish Tours
This past month was a whirlwind of musical mishugas at Folk Alliance International Conference in Kansas City, and then an amazing tour of the UK & Ireland, including a meet-up with the Abby Lee Dance Company, and a day of exciting interviews and promo with Judy Collins. Easily one of the most gratifying, action-packed legs of Rachael's "never-ending" tour, Rachael, violinist Kelly Halloran and their fabulous tour manager Meredith Tarr made a point to chronicle their (mis)adventures in several fun Facebook Galleries, below. Enjoy!
6. "Blue Roses Tour" Continues! Upcoming Spring Shows
In addition to SXSW this week in Austin, TX, March & April will see Rachael performing a bunch of shows everywhere from Nashville to Florida to Massachusetts and her hometown NYC (where she'll return to SubCulture with the brilliantly talented Matt Nakoa next month). For details, see the sidebar of this newsletter, and as always visit www.rachaelsage.com/tour for updates.
AVAILABLE NOW

featuring songs from "Dance Moms"
---
UPCOMING SHOWS
(For more details and to confirm start times, please visit Rachael's website)
3/17- 3/21 • Austin, TX
SXSW 2015
MPress Attending
3/17 • Austin, TX
SXSW Kick Off Party
9:30 pm
(By Invitation Only)
3/18 • Austin, TX
MusicGorilla @ Burnside's Tavern
1:00 pm
3/19 • Austin, TX
Red Gorilla Music Fest @ Amped (Downstairs)
2:00 pm
3/20 • Austin, TX
MPressFest SXSW 2015 @ The Soho Lounge
12:00 - 5:30 pm
3/21 • Austin, TX
Folk Alliance SXSW @ Threadgill's World HQ
1:00 pm
3/23 • Nashville, TN
OutCentral Community Center
7:00 pm
3/26 • Seaside, FL
Seaside Repertory Theatre
7:30 pm
3/27 • Orlando, FL
Private Event
7:00 pm
3/28 • Awendaw, SC
Awendaw Green
6:00 pm
with Danielle Howle & Firework Show, Josh Roberts and The Hinges
3/31 • Nashville, TN
The Listening Room Cafe
8:30 pm
Songwriter's round with Jeff Cohen & Alex Wong
4/10 • Northampton, MA
Iron Horse Music Hall
7:00 pm
with Seth Glier
4/11 • Philadelphia, PA
House Concert
8:00 pm
RSVP Here
4/12 • Alexandria, VA
The Birchmere
8:00 pm
with Shawn Colvin
4/18 • New York, NY
SubCulture
9:00 pm
w/special guest Matt Nakoa!
4/23 • Lancaster, PA
LAUNCH Music Festival @ The Lancaster Dispensing Co.
11:00 pm

4/25 • Macungie, PA
"Bringing Nashville North" @
Macungie Arts Institute
8:00 pm
4/26 • Ithaca, NY
Felicia's Atomic Lounge
7:00 pm
5/9 • Binghamton, NY
Cyber Cafe West
9:00 pm
5/13- 5/14 • Philadelphia, PA
NON-COMMvention
MPress Attending
5/17 • Palo Alto, CA
TEDx Stanford
11:00 am