Hello from rainy, chilly NYC...#oy!
All the more reason why your favorite glittery songstress Rachael Sage is excited to be hitting the road again, performing songs from her forthcoming album "Choreographic" with her sizzling trio, The Sequins. A smattering of new dates have been added, but if you see your city missing and would like to host a house concert or suggest a local venue, drop us a line!
xo & light,
- Rachael & Team MPress
1. "CHOREOGRAPHIC" AVAILABLE FOR PRE-ORDER NOW ON ITUNES!
Rachael's brand-new, dance-inspired album doesn't hit stores officially until May 20th, but you can be the first on your block to receive it by pre-ordering it now on iTunes! (In addition to exclusive iTunes-only cover art, you'll also get 2 tracks instantly: "Heaven (Is A Grocery Clerk)" and "Try Try Try"!). Featuring Rachael's touring band The Sequins and a bevy of very special guests, the album was co-produced by Sage & Grammy® winner Andy Zulla, and recorded by Zulla & longtime collaborator John Shyloski. It's already getting rave reviews – see below!
WHAT CRITICS ARE SAYING ABOUT "CHOREOGRAPHIC":
"...Choreographic (is) a colorful work that shares flourishes of Sigur Rós and Kate Bush, and identifies Sage as a divine musical visionary." — Glide Magazine
"With its baroque strings and off-kilter but memorable percussion, ('Try Try Try') deliberately evokes a modern dance number fueled by triumph and feminine resilience." — Baeble Music
"'Choreographic' features 12 original compositions that will make you dance, cry, smile, and move to the beat...In less than 20 years Rachael has accomplished more as an independent artist than some artists signed to a major label have done in a lifetime." — The Daily Voice
"Intoxicating" — Bruce Winter, WUWM
2. PRE-ORDER THE ALBUM FROM PLEDGE & GET EXCLUSIVE GOODIES & "ALL ACCESS"!
Rachael's pre-order campaign over at Pledge Music is going strong! (Thank you to everyone who's already come onboard, and we hope you're enjoying all the exclusive sneak peeks & greetings your "All Access Pass" has granted you so far! Rachael & Team MPress worked hard to put some really cool packages together, featuring everything from newly designed, dance-themed T-Shirts, to original paintings & even a coloring book inspired by "Choreographic"! You still have plenty of time to participate in all the fun, and support a certain colorful, prolific artiste in the process!
3. RACHAEL'S NEW SINGLE "TRY TRY TRY" CLIMBING UP THE AC RADIO CHARTS!
Rachael's first single was serviced to AC (Adult Contemporary) radio just a couple weeks ago, and has quickly climbed to #64, alongside Elle King, Rachel Platten, & Ellie Goulding (up 33 positions from #97 in its debut week). It was also on radio publication FMQB's "Most Added" chart, which notes new releases with the most spins! The whole record has also been sent to radio, so keep an ear out, and if you hear Rachael on your local station, please let us know by Tweeting us or posting on our Facebook Page!
4. INTERNATIONAL DANCE DAY: MEDIA RECAP, VIDEO TEASER & CONTEST
Last week, we celebrated International Dance Day in a big way, by sharing a teaser with behind-the-scenes footage from Rachael's pending video, "I Don't Believe It". Two slightly different versions of the video made waves in the U.S. and also the across the pond, premiering on UK website Female First as well as US-based blog Popwrapped. Rachael also launched her own Dance Contest, to encourage dance students to choreograph & perform to her new album. Learn more here!
One of Rachael's longtime friends, artist Dan Paul Roberts (who designed her "Blue Roses" T-shirt) also created a lovely animated clip of a ballerina, in her signature magenta & purple palette! Watch it on YouTube!
5. HOMETOWN CD RELEASE PARTY IN NYC: MAY 13 @ ROCKWOOD MUSIC HALL
Attention Tri-State Area friends! Tickets are selling fast for Rachael's hometown CD Release show on May 13th, at 7pm @ one of her favorite venues, Rockwood 2! Joining her for this very special occasion will be her band The Sequins (cello: Ward Williams; violin: Kelly Halloran; & drums: Andy Mac), along with surprise guests. Reserve your spot now, & spread the word! *Note: FREE Acoustic EP included with ticket purchase!
6. CD RELEASE TOUR CONTINUES: EAST COAST, MIDWEST, WEST COAST & MORE!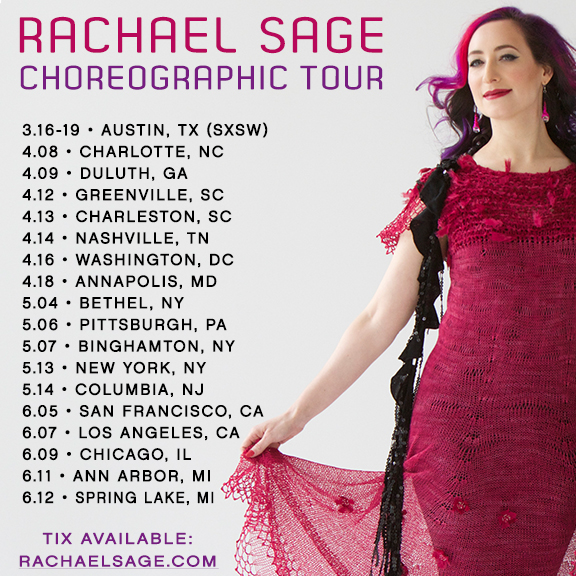 Several new cities have been announced since the last newsletter went out (including Rochester & Buffalo, NY & Somerville, MA), and Rachael is eager to bring her musical mishugas (aka mayhem) to audiences in OH, PA, NY, NJ, CA, IL, MI, MD, DE & MA! A full list of upcoming shows is below. As always, visit Rachael's website for details & ticket links!
PRE-ORDER NOW

Choreographic (Brand New Album)
---
UPCOMING SHOWS
(For more details and to confirm start times, please visit Rachael's website)
5/4 • Columbus, OH
Ethel's Stage Left
8:00pm
5/5 • Rochester, NY
Lovin' Cup
8:00pm
5/6 • Pittsburgh, PA
First Unitarian Church
8:00pm
5/7 • Binghamton, NY
Cyber Cafe West
9:00pm
5/13 • New York, NY
Rockwood Music Hall Stage 2
7:00pm
NYC ALBUM RELEASE SHOW!
5/14 • Columbia, NJ
Muses In The Vineyard Festival
4:30pm
6/2 • Hay-on-Wye, UK
How The Light Gets In Festival
7:30pm
6/5 • San Francisco, CA
Hotel Utah
8:00pm
6/7 • Los Angeles, CA
The Hotel Cafe - Second Stage
8:00pm
6/9 • Chicago, IL
Uncommon Ground Edgewater
8:00pm
6/11 • Ann Arbor, MI
The Ark
7:30pm
supporting Mary Fahl
6/12 • Spring Lake, MI
Seven Steps Up
7:00pm
supporting Mary Fahl
6/15 • Buffalo, NY
9th Ward at Babeville
8:00pm
6/24 • Easton, MD
Stoltz Listening Room @ Avalon Theatre
8:00pm
7/21 • Wilmington, DE
Ladybug Festival
time TBA
7/24 • Somerville, MA
The Burren
9:00pm