Hey y'all! Happy Autumn, our favorite season around here, woohoo!
Rachael has more exciting news this month than you can shake a rake at - including the official release of her brand new album "Blue Roses", details for her upcoming NYC CD Release Party, and updates on exciting exclusives only available via her Pledge Music campaign. Details below...enjoy!
xo & pumpkin pie,
Team MPress
1. NEW ALBUM "BLUE ROSES" AVAILABLE IN THE US NOV. 4TH!
Rachael's latest collection, "Blue Roses", will be available everywhere in North America on November 4th! (The Deluxe version is already available digitally through iTunes). Featuring members of her touring band The Sequins, as well as a long list of special guests, the album was produced by Sage with Grammy® Nominated engineer John Shyloski. Highlights include a duet of Neil Young's "Helpless" with the legendary Judy Collins, as well as appearances by percussionists Quinn (Daft Punk), Doug Yowell (Duncan Sheik) and Everett Bradley (Bruce Springsteen), along with longtime collaborators Jack Petruzelli (Patti Smith) and James Mastro (Ian Hunter) on guitar. For more info on the album, see the official press release.
2. NYC OFFICIAL CD RELEASE: LE POISSON ROUGE, NOV. 1ST!
Tickets are on sale now for Rachael's official hometown CD Release Show on Nov. 1st at Le Poisson Rouge, one of the City's finest listening rooms. This will be Rachael's debut at LPR, and we are really hoping to fill this - much larger! - venue, so we are thrilled to offer some exciting perks to those of you who might need a little extra "nudging" to get off the couch and venture down to the West Village :) Firstly, everyone who attends will receive a signed copy of "Blue Roses", with price of admission! Attendees will also receive a free poster commemorating the evening, and finally, MPress Records will be throwing a secret VIP after-party to which only those at the concert will be invited, on-site. The wonderful Gregory Douglass will open the show, and Rachael will be accompanied by The Sequins: cellist Ward Williams, violinist Kelly Halloran, and percussionist Andy Mac.
Please join us for what is sure to be a celebratory evening of beautiful music! Purchase tickets in advance.
3. RACHAEL'S PLEDGE MUSIC PRE-ORDER CAMPAIGN IN FULL SWING!
Thanks to everyone who's been participating in Rachael's first-ever Pledge Music Campaign for "Blue Roses". Rachael has been enjoying spending time with Pledge supporters along her tour at special VIP meet-and-greet events, and offering exclusive video updates, throughout the campaign. If you haven't checked out the excitement yet, there's still time! Visit her Pledge Music page to learn more about the creative packages Rachael is still offering directly to fans, including signed lyrics, original paintings, decorated instruments, private house concerts, a meet-and-greet at her upcoming NYC CD Release, the first behind-the scenes sneak-peek of the making of her official video for "Wax", and more!
4. "BLUE ROSES INTERNATIONAL TOUR" UNDERWAY...
Earlier this month, Rachael had a great time playing shows in the South, Midwest and along the West Coast...Thanks to everyone who came out to hear the new music! This month, the tour continues in the UK, where Rachael is currently supporting shows for Welsh operatic sensation Rhydian Roberts. She's also scheduled a handful of additional London CD Release shows, so there are plenty of chances to catch her, in the UK!
More U.S. shows will continue throughout the Fall, including stops in NM, IL, PA and more! For updates, visit www.rachaelsage.com/shows or check out the listings on the right side of this newsletter.
5. RADIO SUPPORT FOR "BLUE ROSES"!
Rachael's new album was recently serviced to Triple A (Adult Album Alternative) and College format radio stations, throughout the U.S. The great news is a bunch of stations have already begun spinning it, including BIRN (Boston, MA), KAOS (Olympia, WA), WMSE (Milwaukee, W)I, and WERU (East Orland, ME). As you can imagine however, there's a lot of competition for airplay between indie and major label artists, so we appreciate your support helping spread the word! If you'd like to hear Rachael's current single, "English Tea", here's a list of local request lines, to help.
Across the pond, Rachael's song "Happiness (Maddie's Song)" is making waves at UK Radio, where the song has been released as an official single. UK fans can download the album and acoustic versions on iTunes now!
6. EARLY BUZZ ON "BLUE ROSES"...
Early reviews and features have been coming in around Rachael's new album, and it's all been very positive :) Here are some links to the most notable pieces, below, and keep an eye on Rachael's Press Page for updates:
AVAILABLE NOW FOR PRE-ORDER
AVAILABLE NOW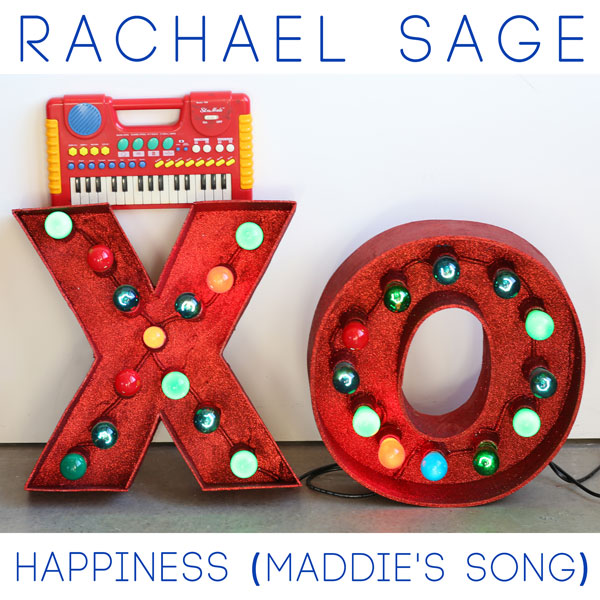 ---
UPCOMING SHOWS
(For more details and to confirm start times, please visit Rachael's website)
10/22 • London, UK
The Workshop
7:30 pm
10/23 • London, UK
229 The Venue 2
7:00 pm
10/26 • Llandudno, UK
Venue Cymru Theatre
7:00 pm
with Rhydian Roberts
10/27 • Cardiff Bay, UK
Millennium Centre
7:00 pm
with Rhydian Roberts
10/30 • Hamden, CT
The Outer Space
8:00 pm
11/1 • New York, NY
Le Poisson Rouge
7:30 pm
Just confirmed!
11/15 • Waukegan, IL
Genessee Theatre
8:00 pm
with Judy Collins
11/16 • Santa Fe, NM
The Lensic Performing Arts Center
8:00 pm
with Judy Collins
12/7 • Pittsburgh, PA
Garfield Artworks
8:00 pm

1/16/15 • Chicago, IL
City Winery
8:00 pm
with Mary Fahl
1/17/15 • Milwaukee, WI
Shank Hall
8:00 pm
with Mary Fahl