Hey y'all!
It's a beautiful autumn day in NYC, and Rachael Sage & Co. have been busy gearing up for Rachael's UK/European Fall Tour for her new album, "Choreographic"!
It's been an amazing end-of-summer, culminating in an exciting Fashion Week-themed art show featuring Rachael's original paintings & wearable art; an exclusive acoustic session on Daytrotter; and Rachael's latest album hitting #10 on the Folk Chart!
We also have a brand-new lyric video for her song "Loreena", as well as news about her participation in the Concert Across America To End Gun Violence. Details below...and see you at a show! :)
xo & light,
xo Rachael & Team MPress
1. RACHAEL HEADS BACK ACROSS THE POND FOR UK/EUROPE FALL TOUR!
Rachael will begin her Choreographic UK Tour this week, accompanied by her longtime fiddle player Kelly Halloran (Michael Franti, Tom Morello). The duo will be hitting some of their very favorite UK cities in September and October, including Corsham, London, Norwich & Brighton, along with Potsdam, Germany and Florence, Italy! Additional shows are in the works for later this Fall in the UK, Germany, Netherlands & more! Keep an eye on Rachael's website for updates.
While in England, Rachael will be participating by remote in the Concert Across America To End Gun Violence. This issue is so important to her that she was able to have her show at Off The Cuff in London, UK on September 25th officially added as part of the event – the only participating show outside North America. Other concerts will include Jackson Browne, Rosanne Cash, Marc Cohn, Eddie Vedder and more! For more information visit: concertacrossamerica.org.
2. UK DANCE WORKSHOP TOUR & SCHOLARSHIP CONTEST
Along with her tour of traditional clubs and venues, Rachael will also be doing a special UK Dance Schools Tour this month, bring her Choreographic Workshop directly to young students, who will also share dances they've created to her songs (including "Try Try Try" and "Home"). School visits are already scheduled in Bristol, Twickenham, Ashford and Borehamwood.
In addition, Rachael will also be running a special scholarship contest! UK Dance studios can enter the contest by sharing a video of their troupe's choreography to one of Rachael's songs. Learn more.
3. NYC'S THINK GALLERY PRESENTS RACHAEL'S ARTWORK THROUGH OCTOBER
This month, Rachael celebrated Fashion Week with an opening art reception at NYC's Think Gallery on Bowery, featuring her colorful, glittery acrylic paintings and wearable art. Along with friends, family and local fans, attendees included ballerina/model Abigail Simon, folk-rock-poetess Lauren O'Brien, singer/songwriter Hugh McGowan and legendary publicist Susan Blond. A fun time was had by all! The show will remain up through mid-October, so head down to the Village and check it out...and if you're far-flung, here's a photo gallery so you're not left out :)
4. DAYTROTTER DEBUTS EXCLUSIVE ACOUSTIC SESSION
Earlier this summer, Rachael recorded a special live session for music tastemaker Daytrotter. Accompanied by her violinist Kelly Halloran, Rachael recorded five live tracks on their upright piano in their Davenport, IA studio including "Heaven (Is A Grocery Clerk)", "Try Try Try", and "It Would Be Enough". Daytrotter called the session "enchanting"...Listen here!
5. "CHOREOGRAPHIC (ACOUSTIC)" ALBUM HITS #10 ON FOLK CHART!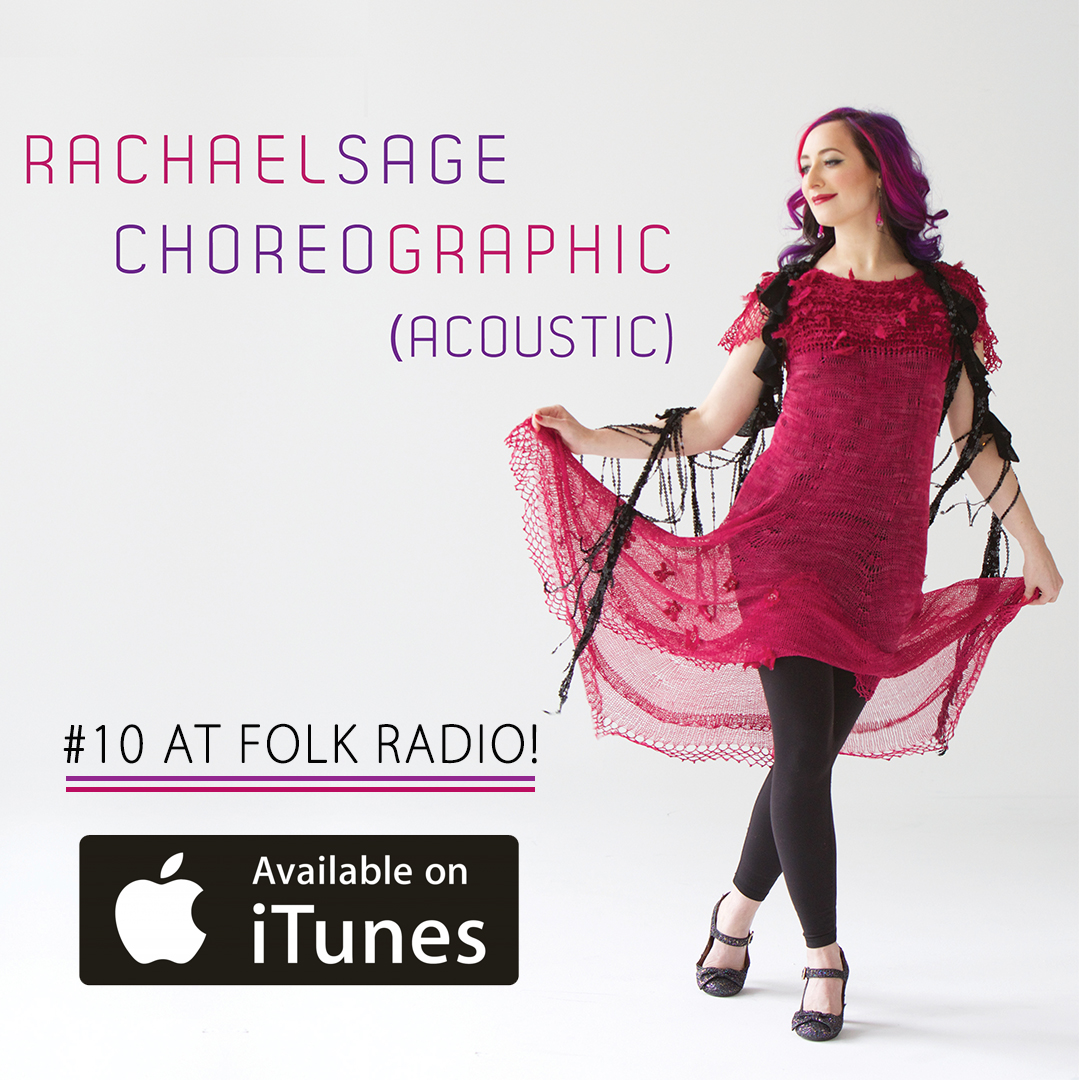 Along with the fully produced album "Choreographic", a few weeks back Rachael released a special stripped-down version of her new record with more intimate, acoustic instrumentation. A love letter to her early days as a dancer and also to her more recent collaborators in the lyrical dance world, "Choreographic (Acoustic)" has quickly climbed to #10 on the Folk Radio Chart, woohoo!
Thanks to all of Rachael's supporters at Folk Radio for the radio love — and also to Sirius XM Radio's The Village for playing her single "Try Try Try". Check out "Choreographic (Acoustic)" now on iTunes!
6. RACHAEL RELEASES ANIMATED LYRIC VIDEO FOR "LOREENA"
We're very excited to share a brand new lyric video with y'all for her song "Loreena"! The moving animated clip was crafted by talented Honolulu-based visual artist Dan Paul Roberts (who also designed some of Rachael's "Blue Roses" merch), and his gifted protégé, Jazmine Uyehara. Watch the "Loreena" Lyric Video here, and read more about the creative collaboration in the official press release.
AVAILABLE NOW!

Choreographic (Brand New Album)

"Disarm Distrust" (Orlando Benefit Single)
---
UPCOMING SHOWS
(For more details and to confirm start times, please visit Rachael's website)
9/22 • Corsham, UK
Cafe Grounded
8:00 pm
9/23 • London, UK
The Troubadour
8:00 pm
9/24 • Norwich, UK
Eaton Park Cafe
8:00pm
9/25 • London, UK
Off The Cuff
7:00 pm
part of The Concert Across America To End Gun Violence
9/27 • Brighton, UK
The Greys
8:30 pm
9/29 • London, UK
Discovery 2 at Club 229
8:00 pm
10/7 • Brooklyn, NY
Natchie Nights
8:00 pm
10/18 • Florence, Italy
Teatro del Sale
10/28 • London, UK
O2 Academy Islington
8:00 pm
11/1 • London, UK
The Bedford
8:00 pm
11/18 • Potsdam, Germany
Nikolaisaal
8:30 pm
12/3 • Los Angeles, CA
Hotel Cafe Second Stage
8:00 pm
12/4 • Visalia, CA
House Concert
7:00 pm
12/8 • San Diego, CA
Lestat's
12/10 • Bisbee, AZ
Starlight Lounge @ Cafe Roka
8:00 pm
3/5/17 • Teaneck, NJ
Mexicali Live
7:00 pm
w/Phoebe Legere