Hello, and sending tons of positive energy from the (remote) MPress Records headquarters!
Firstly, thanks to all of you who have been tuning in to Rachael's "Stay In With Sage" April livestreams, benefiting God's Love We Deliver. It has been incredibly heartening to interact with so many of you in real time, and we look forward to continuing to connect on Wednesdays and Sundays, and to know how you are doing.
It is also impossible to continue to share additional news from Rachael without a big giant THANK YOU (understatement!!!!) to all of the medical professionals and other essential workers on the front lines who are regularly in harm's way, healing and protecting us. Doctors, nurses, mail carriers, food delivery folks – everyone who is unable to stay home and who's helping us all get through this, we *honor* you and are grateful to the moon and back.
Onward to music & other creative news, below...
xo & light,
Rachael & Team MPress
---
1. COLLABORATE WITH RACHAEL FOR A SPECIAL "HOME" VIDEO PROJECT!
Rachael's song "Home (Where I Am Now)" (from her album Choreographic) has taken on new meaning lately – which gave her an idea to help bring us together during these unprecedented times. She would love to have you, her fans, friends & supporters send us footage of what you are doing at home now to stay healthy, positive, busy, and connected. (And don't be afraid to sing along!)
Team MPress will edit the footage into a brand-new video for "Home" that comes from all of us collaborating together. Once it's done, we hope to use the video to help encourage donations to medical workers on the front lines in Rachael's beloved hometown of NYC.
Complete information and submission form here.
2. APRIL "STAY IN WITH SAGE" VIRTUAL SHOWS CONTINUE WEDNESDAYS & SUNDAYS!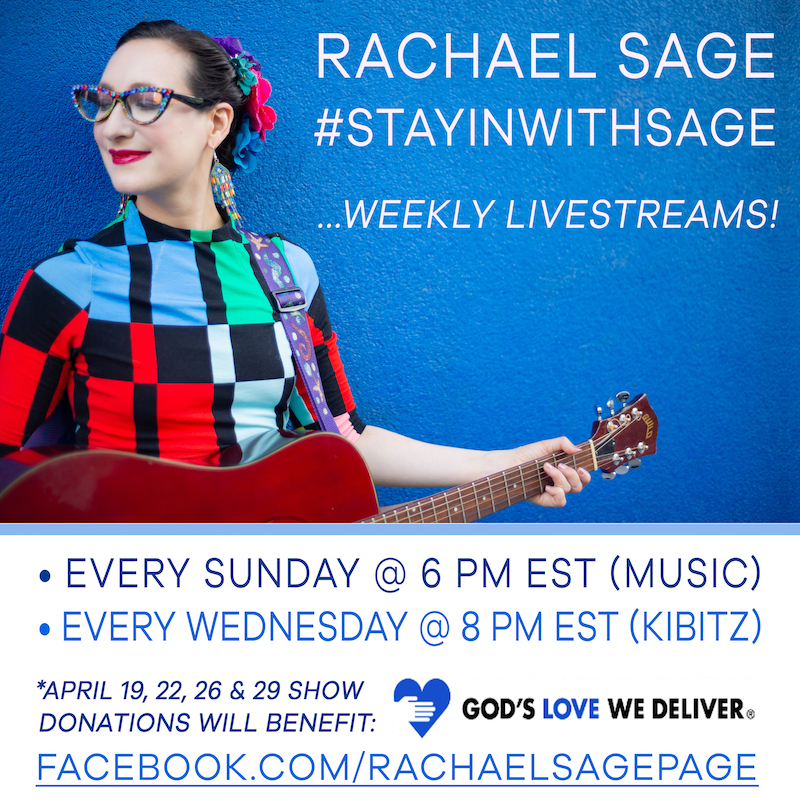 In lieu of touring, Rachael continues to do online performances twice weekly on her Facebook page, on Wednesdays at 8pm and Sundays at 6pm (all times Eastern). These "Stay In With Sage" virtual shows in April benefit God's Love We Deliver, an organization dedicated to feeding the homebound in NYC. The Wednesday shows are informal "Kibitz" sessions where Rachael reads poetry, talks about her songs, and answers audience questions. Sundays are more traditional musical performances. There are always surprises, so we hope you will tune in!
3. NEW POETRY FROM RACHAEL IN HER WEBSITE "MUSINGS" SECTION
While it has not been possible for Rachael to record new music in isolation, she has nonetheless been very prolific with her poetry lately, writing new pieces every few days and sharing them frequently on her Facebook Page. For those of you who have not "Liked" her page there yet, we encourage you to do so! In the meantime, you can catch up by heading over to the Musings section on her website.
4. MPRESSFEST VIRTUAL CONCERT APRIL 25 BENEFITING SWEET RELIEF
Rachael will be taking part in the first MPressFest Virtual Concert on Saturday, April 25 starting at 4pm EST. She will perform alongside labelmates Seth Glier, Grace Pettis, and Dom & Sean Kelly of A Fragile Tomorrow. During the concert, viewers will be encouraged to donate to the Sweet Relief COVID-19 Relief Fund. The livestreaming event will simulcast on the MPress Facebook Page and YouTube Channel, so be sure to "Like" the page and subscribe to the channel!
5. INTERVIEWS & ARCHIVED VIDEOS!
Here is a rundown of some recent press, and links to archived videos in case you missed them when they were live:
Livestreamed performances so far:
AVAILABLE NOW!

"Character" Vinyl
PRE-ORDER NOW

"Character" Deluxe Double CD Book
PRE-ORDER NOW
---
UPCOMING LIVESTREAMS
(ALL TIMES EASTERN. For more details and to confirm start times, please visit Rachael's website)
4/19/20
"Stay In With Sage" – Music
6:00 pm
4/22/20
"Stay In With Sage" – Kibitz
8:00 pm
4/25/20
MPressFest Virtual Concert
5:15 pm
4/26/20
"Stay In With Sage" – Music
6:00 pm
5/3/20
"Stay In With Sage" – Kibitz
8:00 pm
5/6/20
"Stay In With Sage" – Music
6:00 pm
5/10/20
"Stay In With Sage" – Kibitz
8:00 pm
5/13/20
"Stay In With Sage" – Music
6:00 pm
5/17/20
"Stay In With Sage" – Kibitz
8:00 pm
5/20/20
"Stay In With Sage" – Music
6:00 pm
5/21/20
Live(stream) At The Camden Chapel
12:00 pm
5/23/20
Virtual Pride 2020
Time TBD
5/24/20
"Stay In With Sage" – Kibitz
8:00 pm
5/27/20
"Stay In With Sage" – Music
6:00 pm
---
Would you like Rachael to be a part of your online event?
Email booking@mpressrecords.com!